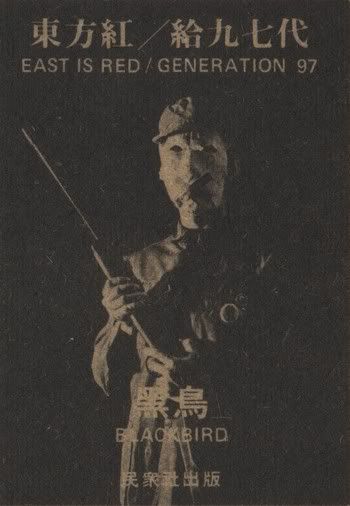 Artist: 黑鳥 (Blackbird)
Album: 東方紅/給九七代 (East is Red / Generation 97)
Date: 1984
Label: Self-Released
Genre: Punk
Country: China
Playtime: 28:59
Quality: 194kbps avg / 44kHz / Stereo
#01] 東方紅 [2:10]
#02] 公開的邀請 [1:54]
#03] 給九七代 [2:27]
#04] 南音:香港史話 [7:19]
#05] 公開的邀請 (民謠版) [2:35]
#06] East Is Red [2:23]
#07] Open Invitation [1:58]
#08] Generation 97 [2:39]
#09] Polish Workers [3:43]
#10] 東方紅 (電影聲帶版) [1:51]
Godfather of Hong Kong underground/indie rock.
I bought their discography bag-set few months ago but I'm not really digging it. I have to say their music is pretty boring imo. It seems that they are just trying to express their political viewpoints and dont really care about the music itself. I'm uploading their albums just because I think some people might dig this sort of political stuff, or just curious about what they sound like.
This is their first album, track 6-8 are English versions of track 1-3. To me this is their best album, pretty raw punk rock.
Download
Alternate Link